Information
Length: 1-3 Minutes
Overview:
Shopper 13
Wallace and Gromit test their latest invention - a robotic shopping trolley - by sending it out to buy cheese. However the loss of a wheel causes a major malfunction and Gromit has his work cut out if he is to save the Edam!
The Autochef
Wallace's latest invention can serve you any type of food you want, unfortunately sometimes it gets a bit carried away and its not long before everything goes 'bottoms up.'
A Christmas Cardomatic
In an attempt to save money on Christmas cards Wallace builds a huge machine to make his own, but could he have just stepped outside the door for a better picture?
The Tellyscope
Forget the remote control, this is the all-new way to change channel from the comfort of your armchair. Problems arise when you've no ammo left however"¦
The Snowmanotron
There's a competition for the best snowman and Wallace is determined to win. But will it be Gromit who takes home the trophy?
The Bully Proof Vest
Burglar in the night? Just use this wonderful vest with inbuilt boxing glove! However Gromit isn't so keen to try it out"¦
525 Crackervac
Finally a device that might save Gromit some time, but will it cause more trouble that it can solve?
The Turbo Diner
An upgrade on the Autochef - produces incredible dinners fit for a King. Just make sure you've topped up the meter"¦
The Snoozatron
Counting sheep has always sent Wallace to sleep, but Gromit has rather a different take on the matter"¦
The Soccamatic
The Preston North End FC Soccamatic is the perfect penalty taking machine, but is it too good?!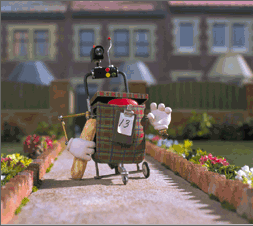 In-Depth Guide

Coming soon...

blog comments powered by