Wallace and Gromit are the brainchild of Nick Park, and were created in his college days at the National Film and Television School.

Originally Wallace was a much more 'goodies' type man - sporting a bushy moustache, an old hat, walking around with his hands in his pockets, etc. The progression of Wallace was really just a natural one, with small changes developing him into the finished character.

Gromit on the other hand has progressed a lot. Originally, he was going to be a cat as a companion for Wallace, but soon became a dog because it was easier to make and animate. Gromit also had a mouth, and was originally going to talk! He was originally much more fierce and over the top - rushing food down, rolling around in the dirt, very different to the calm and secluded Gromit we know now! He was also originally fatter and rounder, but this was also dropped to make filming easier. Nick Park has said that he thought Gromit would have to act in a funny way because it was a comedy piece, but soon discovered that this was not the case.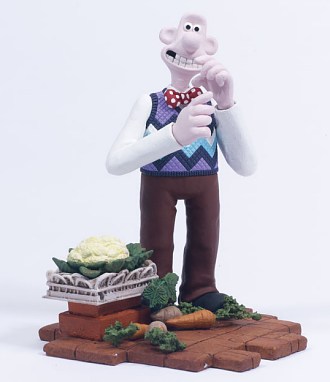 A little known fact is that originally Peter Sallis, the voice of Wallace, wasn't the only person to provide a voice for the duo, the late Peter Hawkins recorded a voice for Gromit at one point. Hawkins provided the voice for many personalities over the years, most memorably creating a whole new language for Bill and Ben the flowerpot men, and the terrifying iconic voice of the Dr. Who Daleks, among other famous voices for programmes such as 'Watch with Mother'. Hawkins passed away fairly recently but the voice he provided for Gromit was never used. It was apparently just mimicking anything that Wallace said, sort of like a spotty dog type of voice!
The mouth stayed for a very long time into planning - even into the beginning of filming. In the scene where Gromit is standing under a table which Wallace is sawing through in the film 'A Grand Day Out', Nick Park found it very difficult and tricky to animate speech because of the limited movement possibilities. Therefore he used Gromit's eyebrows to express emotion. He discovered how incredibly expressive they could be and dropped the idea of the mouth immediately!
One night in the pub, Nick and a friend of his who used to be his flatmate, Steve Rushton, were discussing ideas for his graduation film from the National Film and Television School, and Nick drew a rocket. He remembered that in the past he and Steve Rushton had discussed ideas for children's books, and he thought that the man he had been drawing in his notebooks for a while now would be the perfect man to build this rocket in his basement and blast off to the moon in it! A great idea, but the man needed a reason to go to the moon. Then Nick remembered the fact that everybody knows the moon's made of cheese, and Wallace's fascination with cheese was born.
The origins of the duos names are extremely interesting as well. Rumours have been flying around the internet that Nick had a dog called Gromit which inspired the name, but this is actually false. The only name which has come from a pet of Nicks so far is from his sister's budgie "Tweet McGraw", whose name inspired that of "Feathers McGraw", the dastardly penguin in 'The Wrong Trousers'.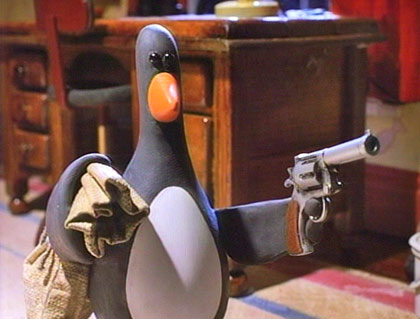 The name Gromit actually came from Nick's elder brother Andrew. He was an electrician and often could be heard talking about various electrical components such as 'grommets'. Nick thought this name sounded good and choose it to represent his new character.
The name Wallace however did come from a dog! When Nick was growing up in Preston he sometimes heard a lady talking to her large Labrador 'Wallace' on the bus. Once again, the name stayed with him for a while and eventually became that of his other character.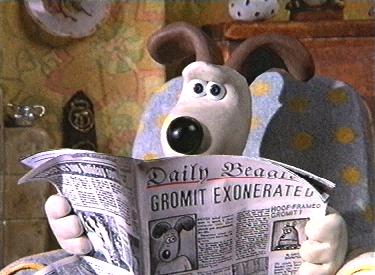 However it's not only names of characters that come from Nick's childhood - many of the things you see around the duo's house do too. From the lamppost behind Gromit in 'A Grand Day Out' when he is reading his 'electronic for dogs' (apparently you could find a larger version of it in his Grandmother's house many years ago), to some of the inventions Wallace builds. Here's an example:
Nick's father was loosely the inspiration for Wallace (and he apparently loves the fact!) When Nick was going to school, his father could often be found inventing in the garden shed. He once even refurbished a rundown caravan and made it a lot more 'homely' - even including wallpaper. The whole family took a holiday in it one year - and this idea comes across strongly when Wallace builds a rocket complete with wallpaper, flowers, etc"¦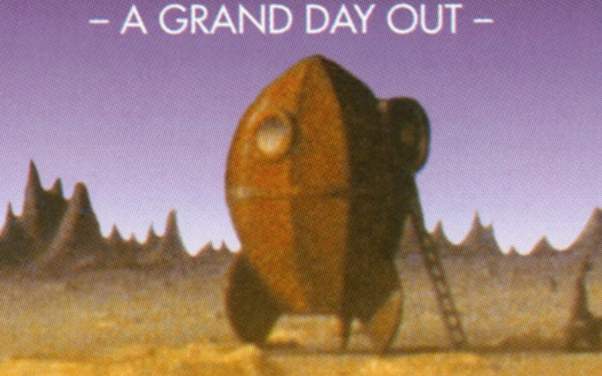 As I mentioned earlier, Peter Sallis provides the voice for Wallace - and he was apparently the first choice Nick had for the role. Peter did the job 'as a favour for a poor student', Nick paying him about just £50 for his trouble. The way he pronounced words like 'cheeeeese' and 'cracking' were the inspiration for Wallace's wide, coat hanger like, distinctive mouth and some of his other memorable characteristics.
So all the parts were in place, and Wallace and Gromit were ready for their first adventure - A Grand Day Out. The film was Nick Park's graduation project, but ran grossly over in time and budget.
In the end, Nick looked for help from Aardman Animations, in Bristol, and they offered him a job in 1985. The condition was that if he helped them with some of their projects he would be allowed to finish his film with their facilities. All in all it took him 6 years to make from start to finish. It is twenty minutes long! 10 minutes of this was made in the 2 years he worked on it at the National Film and Television School. At Aardman Nick continued to painstakingly animate every single frame himself, in between working on other projects such as Creature Comforts and the music video for Peter Gabriel's 'Sledgehammer' piece.
In 1990 Channel 4 showed 'A Grand Day Out' for the first time. Both A Grand Day Out and Creature Comforts were put in as nominees for the Academy Awards so, in a sense, Nick was in competition with himself because he made up 2/3 of the entries! Creature Comforts won, and this stopped some of the popularity for A Grand Day Out. Channel 4 was reluctant to commission a second film, but the BBC stepped in. They bought A Grand Day Out from Channel 4 and commissioned the second film.

For a long time at this point Nick had been drawing lots of ideas in his many notebooks for new Wallace and Gromit adventures. The one he liked the most was a storyboarded scene for a train chase on the living room floor in the duo's house. This became the starting point for 'The Wrong Trousers', and the script almost wrote itself from there on. With Feather McGraw, the penguin, changing from just an annoying nephew to a villainous lodger, the film took shape and was completed in just 18 months!
To help him animate the adventure, Nick called in his good friend Steve Box to help and he made many of Gromit's movements, Feathers McGraw, and all of Wallace's sleeping scenes (Wallace's yawn is the first time anyone other than Nick had moved Wallace's mouth, though Nick watched over it very carefully!) Nick and Steve could apparently often be found well into overtime and during the long production and filming hours nearly all their time was devoted to thinking about Wallace and Gromit.
The hard work paid off though and the film was a massive success with a huge amount of viewing figures, and won Nick's second Oscar! After a very short break, hardly any time for Nick to have a 'cuppa, the third Wallace and Gromit story was made! A Close Shave was bigger and brighter than ever before. There were thirty animators, compared with just one on A Grand Day Out, and many more backstage crew. The script called for more characters, including a whole flock of sheep, a terrible cyber-dog, and the first speaking role since Wallace - Wendolene. Wendolene Ramsbottom provided a new window into Wallace as he developed feelings for Wendolene, before having them crushed when he learns that she is allergic to cheese - even Wensleydale!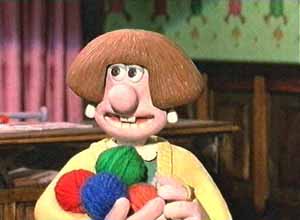 Once again the film was received with a massive amount of support, being the highlight of the BBC Christmas viewing of 1995. They even starred as the BBC's Christmas mascots for the year, filling in the gaps before a programme started (see the 'Commercials and Idents page'!) The film was publicised everywhere - posters, magazines, even the news carried stories on it! The viewing figures were through the roof, and there was little doubt that it would win that year's academy award for best short animated film - which it, of course, did.
Something interesting that can be found throughout all of the films is a lot of unintentional 'foreshadowing'. This is when something seemingly unimportant can give you an idea of what is to come. In 'A Grand Day Out', we see pictures of sheep all over the house - foreshadowing 'A Close Shave'. In 'the Wrong Trousers' there are marrows upon the wall foreshadowing the feature length film, and even more pictures of sheep 'hanging around'. Wallace reads newspapers with headlines such as 'chicken saved by Bantam', foreshadowing 'Chicken Run', the first of Aardman's feature length film on which Nick was heavily involved with - and these are just a handful of examples!
Since the release of 'A Close Shave' there has been no stopping the overwhelming success of Wallace and Gromit. They have been involved with commercials for big name brands, have been translated into over 30 languages, and even received visits from people such as Tony Blair, and Her Majesty Queen Elizabeth II! Prince Charles is rumoured to be a very big fan of the two, with regular correspondents between him and the Aardman team.
Wallace and Gromit have gone on to have successful computer games, a whole theatrical play written and toured starring them, they've gone for an impromptu ride in a New York Taxi, and have had a feature length film of their own which won several more major awards, including yet another Oscar! Their creator - the fabulous Nick Park - has been pronounced as a genius and is thought of as one of the leading animators in history!
There's no stopping Wallace and Gromit, and we'll be right beside them!
blog comments powered by